Entertaining Daytona Beach and Central Florida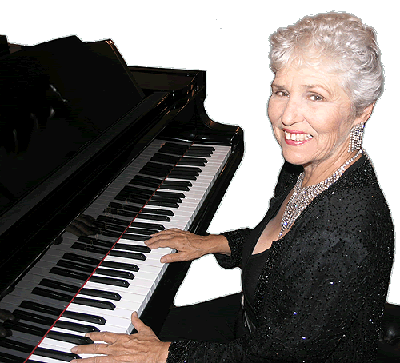 Professional
Entertaining Daytona Beach and Central Florida for over thirty years, Marsha does everything from turn-of-the-century ragtime and honky-tonk piano through boogie-woogie and the big band era, classic rock & roll, pop & country. Jazz is a specialty.
Marsha's large and diverse repertoire has allowed her to play many different entertainment venues.
Piano Lessons for Adults and Children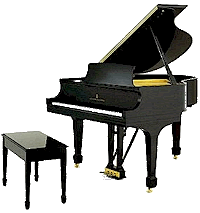 Marsha offers Piano Instruction for adults and children of all ages from beginning to intermediate levels and works with singers who want to improve their confidence and performance skills. Marsha teaches both notation and playing by ear. Learning to play by ear is a useful and important skill to learn, which is why it is almost always a pretty major part of even informal training.
A Note about Teaching Pre-School age Children
I work with children on an individual basis to foster in them a love of music , while at the same time discovering what they are capable of learning. For want of a better term I call this teaching Music Readiness.
Each child is different in terms of readiness and attention span.  Some parents may buy a small keyboard for their child.  All of the keyboards are different in that some have small keys, large keys, rhythm capabilities, recording functions, etc.  I have not found a source or keyboard that is best for your child, so I have learned to work with what is available to them. An acoustic piano is always best, of course. 
Children are exposed to songs like "Twinkle Twinkle Little Star", "Barney", "Mary Had a Little Lamb" and such. So I take advantage of that fact and use it as a teaching tool. I do put the letter names of the notes for one octave on their keyboards (however, that's just to get started). I have many familiar songs written out with easily recognizable graphics which encourages the student to pick songs he or she has heard or likes and wants to play.  I also have numbers on the keyboard so that they can start to use all five fingers.  This is just a starter for them to play a 5-note scale and use each finger.  I use a hand picture for them to find the number of each finger.  They love putting their hands on the picture and then finding it on the keyboard.  If they don't know their letters and numbers, then I work on cards matching the keyboard - which helps the younger beginners.
From this point, I have noticed that each child has a different attention span each day.  If a child doesn't want to be at the keyboard playing songs; I can then have them learn the keys through a felt or wood puzzle keyboard (which I have designed specifically for that purpose). The child will choose which one he wants. This "game" teaches the keyboard without the labels being on the keys.  After doing that for a while, I take them to the REAL piano provided and we start to learn first where the C's are and then eventually all the keys.  They get to hear what a REAL piano sounds like when they strike the keys, and they also get to experience my playing the piano for them to sing and dance. 
It is fine for them to play songs they know from letters and numbers (and an enjoyable beginning), but what they will need in the future is to be able to read music notation.  We really don't know at such an early age whether or not your child will pursue further studies in music; but if they sing, are in a choir, play violin, trumpet, clarinet, bass, or whatever other instrument it will be to their advantage to be able to read music and keyboards give a wonderful visual picture of the notes.
Therefore, one of the tools I have created (along with the various three-dimensional puzzles) is a "hands on" cloth with the treble clef, time signature, notes, letters for the lines and spaces, and letter names that can be placed on a staff. 
To my amazement, even 4 and 5 year olds are then able to relate the cloth staff to music written on a normal 8 ½ " by 11" page.  Children are reading, enjoying it, and learning by leaps and bounds.  Something I never thought possible before I began working with such young children.  Yes, they are teaching me the possibilities. 
Another method I like to use when working with your child is to help them compose a song about something they are interested in such as a cartoon character, a sport, an activity.  We work out four short sentences.  I divide the words into syllables and the child picks out the notes they want.  They are then eager to play their song while learning is taking place and are proud of their accomplishment.   
Sometimes we learn  what the record function does for keyboards with that feature. The child will play the song from the simple sheet music we have created and then listen to it play back. They love that.
Sometimes we might play a rhythm from a keyboard they may have and dance with it.  Sometimes I play piano and they move in different ways putting the rhythm in shoulders, arms, hands, hips, legs, or feet. They can create and decide where the rhythm will go. Sometimes we count with the rhythm so that they can get the idea of a measure with beats 1, 2, 3, 4. Sometimes we sing together. Some can sing on key, and some are just beginning to develop that capability; but we don't make that important—it's wherever they can enjoy doing for that day.
Instead of teaching the traditional way that I was taught as a child, I am constantly looking for ways to make music fun.  I am less interested in having them perform for others and more interested in allowing them to explore the creative opportunities of music.  That is why I have named the lessons "Music Readiness". I'm confident that whatever comes from our time together, it will enhance the child's appreciation and development of musical interest and talent.
Music can be like a best friend in whatever form and is always available in singing, dancing or playing and is an expression of creativity. It is a gift you can give your child at a very early age. Perhaps he or she will not pursue instrument lessons in the future, but an appreciation of music fills a part of them that cannot be touched in any other way.
Marsha Summers